12th Biology Objective Subjective Questions and Answers in English Biotechnology : Principles & Process Chapter
---
11. Biotechnology : Principles & Process 
---
1. Agrobacterium tumifaciens is a natural vector. How?
Ans.- Agrobacterium tumifaciens bacteria infect dicot plants and transfer its T-DNA. Due to this transfer normal cell changes into recombinant cell. T-plasmid of this bacterium is used as vector.
---
2. What is biolistic or gene-gun technique?
Ans.-In recent years, biolistic method or gene gun method has become popular for introducing DNA into cells. It is a means of introducing DNA into cells that involves bombardment of cells with high velocity microprojectiles coated with DNA. In biolistic method tungesten or gold particles, coated with foreign DNA are bombarded into target cells at a very high velocity. Although this method is suitable for plants yet this technique is also used to insert genes into animals that promote tissue repair into cells, near wounds. Diameter of microprojectile is 1–3 μm. This method failed to make an impression in treatment of genetic disorder but made great impact in the field of vaccine development.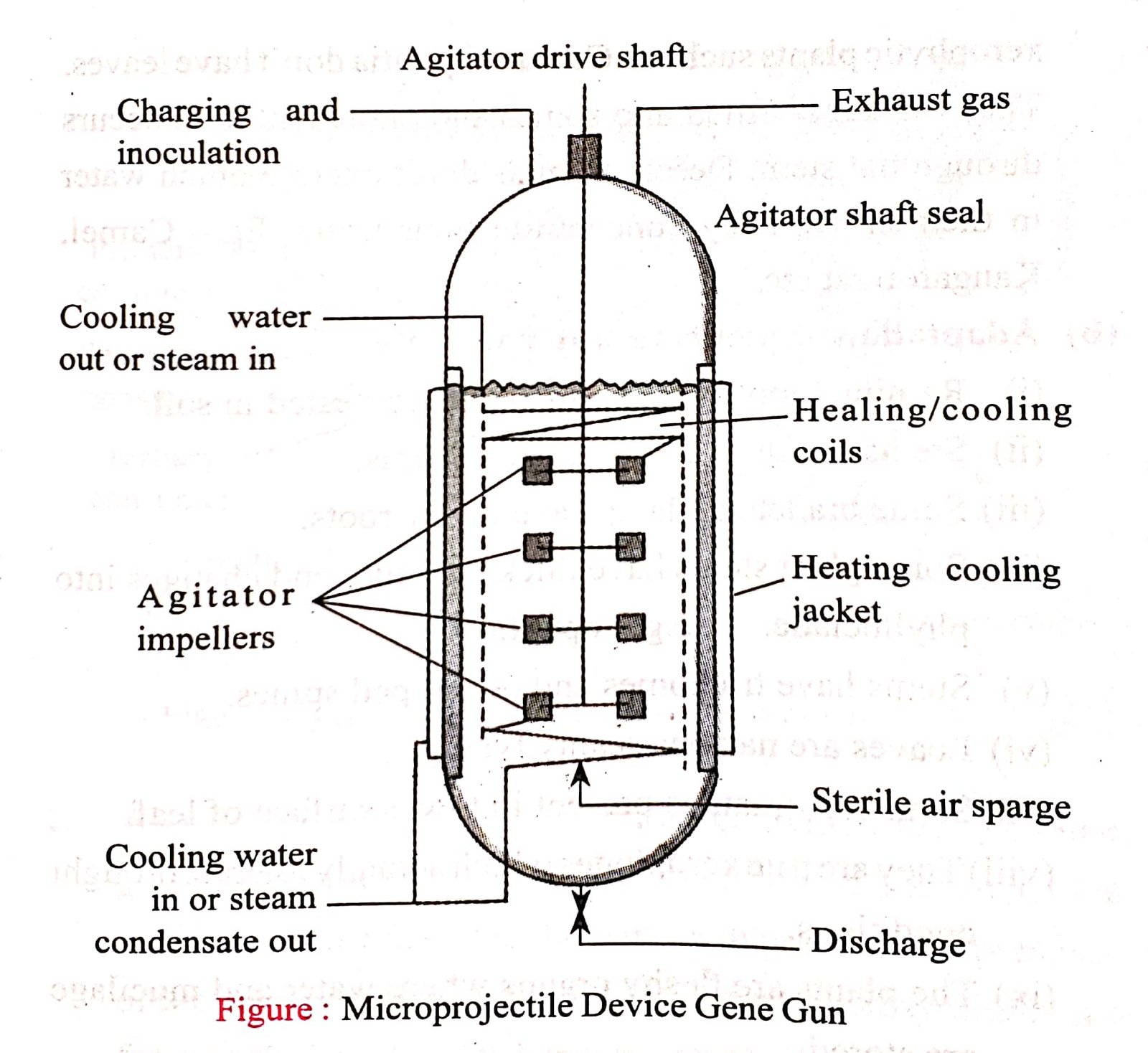 ---
Biology ka Objective Question 12th, 12th Biology Objective Questions and Answers in English 2020, 12th Biology Objective, Class 12th Biology Most VVI MCQ Objective Chapter Wise Question in English on New Pattern, BSEB Inter Exam 2021 Biology Objective Question Set10th board, Class 12th Exam Science Stream Biology VVI Objective Type Question Ecosystem Chapter, Class 12th Exam Biology Objective MCQ Question Chapter Wise in English, 12th Biology Short Long Type Question Reproduction In Organisms Chapter in English
---
12th Biology Objective Subjective Questions and Answers in English, 12th Biology Objective Questions and Answers in English 2021, 12th Biology Objective Questions and Answers pdf in English, Chemistry Objective question 12th 2021, Bihar Board 12th Biology Objective Question Sexual Reproduction in Flowering Plants Chapter, 12th Biology ka objective question 2021, 
---
IMPORTANT LINKS –
Class 12th Biology VVI Objective Subjective Question in English Sexual Reproduction in Flowering Plants Chapter, BSEB Inter Exam Biology Chapter wise Objective Subjective Question New Pattern, Bihar Board 12th Biology Objective Subjective  Question Sexual Reproduction in Flowering Plants Chapter,
Class 12th Exam Biology VVI Objective Subjective Question Human Reproduction Chapter, 12th Board Exam Biology Most VVI MCQ Question Reproductive Health Chapter, Class 12th Board Exam Biology Important Chapter Wise MCQ Subjective Question in English, BSEB Inter Exam Biology Important MCQ Question Evolution Chapter in English,
Class 12th Biology VVI Objective MCQ Human Health and Diseases Chapter in English, Class 12th Exam Biology Chapter Wise Objective MCQ Question in English, Class 12th Biology Most VVI MCQ Objective Chapter Wise Question in English on New Pattern, BSEB Inter Exam Biology Chapter Wise Objective Subjective MCQ Question in English, Human Reproduction Chapter 12th Biology Short Long Type Important Question, BSEB 12th Exam Biology Most VVI Short Long Question Reproductive Health Chapter on New Pattern, Class 12th Biology VVI Objective Subjective Question in English Human Health And Diseases Chapter, 12th Biology Objective Subjective Questions and Answers in English Biotechnology : Principles & Process Chapter