BSEB Inter Exam Biology Ecosystem Chapter Wise Subjective Question
---
15. Ecosystem
---
1. Distinguish between : 
(A) Grazing food chain and detritus food chain.
(B) Production and Decomposition.
(C) Upright and Invested Pyramids.
Ans.- (A) Grazing food chain and detritus food chain. 
---
2. What is food web? Name the organisms of two food chains in a terrestrial ecosystem.
Ans.-There are many types of food chains in the ecosystem, but these food chains are not independent. Food web is a network of food chains which become interconnected at various trophic levels so as to form a number of feeding connections amongst the different organisms of a biotic community. Normally a food web operates according to taste and food preferences of the organisms at each trophic level. However, availability at each trophic level. In Sunderbans, the tigers eat fish and crab in the absence of their natural preys. Some organism normally operate at more than one trophic level. Snakes feed on mice as well as frogs. Wild cats prey upon mice as well as birds and squirrels. A wolf eats not only fox but also rabbit and deer.
Marshy plants are eaten by various insects. 
Two food chains in a land ecosystem.
---
3. Differentiate following: 
(A) Food chain and food web, 
(B) Litter and Detritus,
(C) Primary and Secondary Productivity,
Ans.- (A) Differentiate between food chain and food web.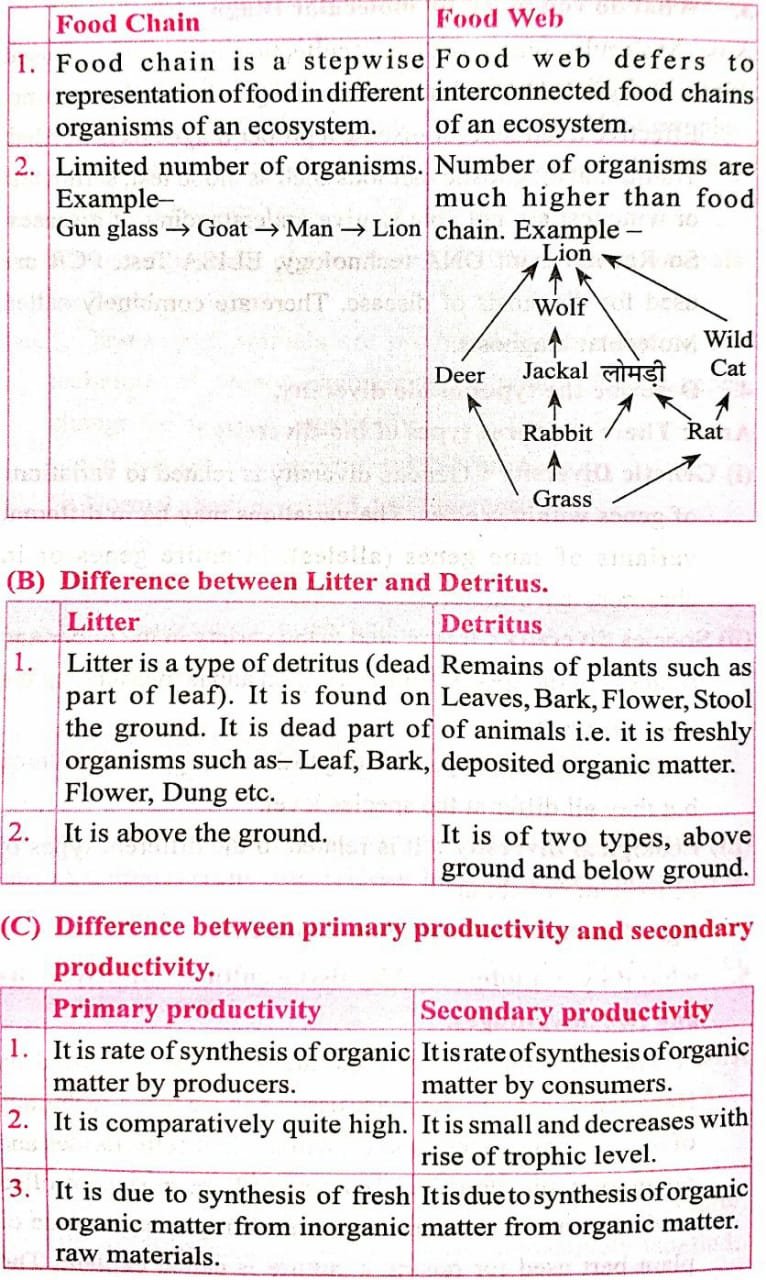 ---
4. Write short notes on Fisheries.
Ans.- Fisheries : The science of producing fish and other aquatic resources for the purpose of providing human food, although other aims are possible (such as sport or recreational fishing), or obtaining ornamental fish or fish products such as fish oil. Learn more in: The CGIAR Virtual Library Bridging the Gap Between Agricultural Research and Worldwide Users The activity of catching fish and other living organisms from the wild aiming to be consumed as seafood. Fisheries are harvested for their value either commercial, recreational, or self-consumption.
---
Biology ka Objective Question 12th, 12th Biology Objective Questions and Answers in English 2020, 12th Biology Objective, Class 12th Biology Most VVI MCQ Objective Chapter Wise Question in English on New Pattern, BSEB Inter Exam 2021 Biology Objective Question Set10th board, Class 12th Exam Science Stream Biology VVI Objective Type Question Ecosystem Chapter, Class 12th Exam Biology Objective MCQ Question Chapter Wise in English, 12th Biology Short Long Type Question Reproduction In Organisms Chapter in English
---
12th Biology Objective Subjective Questions and Answers in English, 12th Biology Objective Questions and Answers in English 2021, 12th Biology Objective Questions and Answers pdf in English, Chemistry Objective question 12th 2021, Bihar Board 12th Biology Objective Question Sexual Reproduction in Flowering Plants Chapter, 12th Biology ka objective question 2021, 
---
IMPORTANT LINKS –
Class 12th Biology VVI Objective Subjective Question in English Sexual Reproduction in Flowering Plants Chapter, BSEB Inter Exam Biology Chapter wise Objective Subjective Question New Pattern, Bihar Board 12th Biology Objective Subjective  Question Sexual Reproduction in Flowering Plants Chapter, BSEB Inter Exam Biology Ecosystem Chapter Wise Subjective Question 
Class 12th Exam Biology VVI Objective Subjective Question Human Reproduction Chapter, 12th Board Exam Biology Most VVI MCQ Question Reproductive Health Chapter, Class 12th Board Exam Biology Important Chapter Wise MCQ Subjective Question in English, BSEB Inter Exam Biology Important MCQ Question Evolution Chapter in English,
Class 12th Biology VVI Objective MCQ Human Health and Diseases Chapter in English, Class 12th Exam Biology Chapter Wise Objective MCQ Question in English, Class 12th Biology Most VVI MCQ Objective Chapter Wise Question in English on New Pattern, BSEB Inter Exam Biology Chapter Wise Objective Subjective MCQ Question in English, Human Reproduction Chapter 12th Biology Short Long Type Important Question, BSEB 12th Exam Biology Most VVI Short Long Question Reproductive Health Chapter on New Pattern, Class 12th Biology VVI Objective Subjective Question in English Human Health And Diseases Chapter