Class 12th Biology VVI Objective Subjective Question in English Human Health And Diseases Chapter
---
8. Human Health And Diseases 
---
1. Write short notes on Innate immunity?
Ans. Innate immunity is also known as inborn immunity, genetic immunity and nonspecific immunity. It is natural genotype based system of defence elements with which an individual is born and which are always available to the living body for providing protection against various infections and other discomfort causing environmental factors. It consists of four types of barriers :
(i) Physical Barriers : Anatomical barriers are-skin, hair, mucous membrane, mucus, cilia and friendly micro organisms.
(ii) Physiological Barriers : It includes body temperature, tears, acidity, oil, sweat, cerumen, Lysozyme, Bile, pH etc.
(iii) Cellular Barriers : They are of two types :
(a) Phagocytic Barriers : It includes cells present in blood such as, Neutrophils and monocytes. Neutrophils are also called PMNL. Macrophages are large irregular phagocytic cells present in both fixed and wandering states.
(b) Natural Killer Cells (NK Cells) : They are small lymphocytes without B or T markers which originate in bone marrow and are specialised to perform cytotoxic activity without prior sensitisation.
(iv) Cytokine Barriers : It includes interferons and inflammatory barriers. Interferons are glycoproteins released by living cells in response to viral attack : 
---
2. Write down a short notes on immunization or vaccination.
Ans.-Immunization : It is the process of development of immunization against a particular disease by inoculation of harmless antigenic material like attenuated pathogen or its taxoid into a healthy person. Immunization develops due to formation of memory cells by the immune system. When a vaccinated person receives an infected dose of the pathogen, the existing memory T or B cells recognise the antigen and induce a massive formation of T-cells, B-cells and antibodies for eliminating the invaders.
For typhoid, whooping cough and diphtheria like bacterial diseases, vaccines are prepared from dead micro-organism. For yellow fever, polio, pox like diseases, vaccines are prepared from atteneuated micro-organisms.
---
3. Write short notes on : 
(A) Innate immunity      (B) Allergy      (C) Carcinogenes       (D) Withdrawal syndrome  (E) Endoparositic Protozoons
Ans. (A) Innate immunity : It is natural genotype based system of defence elements with which an individual is born and which are always available to the living body for providing protection against various injections and other discomfort causing environmental factors. It is also called non-specific immunity. It includes skin, cilia, mucus, body temperature, lysozyme, acidity, B-cells, T-cells, cerumen like barriers.
(B) Allergy: Allergy or hypersensitivity is a heightened immune y response to a foreign substance or antigen. The substance that cause allergy is called Allergen. Some common allergens are spores, pollens, moulds, scent, wool, dust, silk, fur, feathers, egg white, drugs etc. The most dangerous of allergic reactions is anaphylaxis. Oedema occurs due to accumulation of tissue fluid.
(C) Carcinogens : Physical, chemical and biological agents that cause cancer are known as carcinogens. Depending upon their mode of action, there are three types of carcinogens. Some radiations such as X-rays, y-rays also act as carcinogens. Cigarette smoke contain 3, 4-benzopyrene, which is carcinogenic. Certain dyes, chemicals (vinyl chloride etc.) also function as carcinogens.  
(D) Withdrawal Syndrome:Few drugs/alcohol cause addiction. Addiction is the state of giving upto a drug, alcohol or tobacco due to becoming physically, physiologically and psychologically attached to its certain effects like euphoria and temporary feeling of well being. Withdrawal syndrome is a combination of physical and psychological changes that occur in an-addict on the sudden discontinuation of addictive drug, alcohol or tobacco. It include depressed mood, anxiety, nervousness, Restlessness, irritability, nausea, vomiting, craving etc. 
(E) Endoparasitic protozoan: Those protozoans that live inside the body of animal and develop there, e.g.- Entamoeba, Malarial parasite, etc.
---
4. How does the transmission of each of the following diseases? 
(A) Amoebiasis  (B) Malaria  (C) Ascariasis (D) Pneumonia
Ans. – (A) Amoebiasis : Causative agent of amoebiasis is Entamoeba histolytica, and its transmission is due to domestic fly. Contaminated food and water is major source for it.
(B) Malaria: Causative agent of Malaria is protozoa Plasmodium. Hi It spreads through female Anopheles mosquito.
(C) Ascariasis : Common ascariasis is caused by common Roundwormor Ascaris lumbricoides. The disease is generally spread through improper disposal of human stool containing roundworm eggs.
(D) Pneumonia : Common pneumonia is caused by Gram (+) bacterium Streptococcus pneumoniae. It is transmitted through droplets (sputum) / aerosols, used tissues or handkerchief of infected persons.
---
5. Write the causes symptoms and control of cholera?
Ans.- Cholera : Cholera is caused due to bacteria known as Vibrio cholerae. Symptoms : Vomiting and loose motion is major symptom of this disease. Colour of stool appear as starch of rice (white colour). Due to these conditions, there is dehydration in the body (loss ofwater). Patient feel thirsty frequently. Formation of urine is less. Temperature of the body start decreasing, Stomach pain, cramps in hand and leg are frequent, eyes become pale yellow. Patient leads to death in the absence of proper treatment at the right time. Preventive Measure : 10 drops of nitroneugra acid (patent medicine of cholera) is mixed with 4-5 drops of Amrit Dhara, and is given to patient for quick relief. Preventive measures include following methods :
(i) Boiling water should be used.  (ii) Fruits and vegetables must be washed with potassium o permagnet solution.  (iii) Food stuffs should be covered.  (iv) Vomited substances and stool should be drained or covered red with lime powder or ash.  (v) Vaccination reduces the possibility of cholera disease.
---
6. How is Rabies caused? Write its symptoms and control measures. 
Ans.- This disease is caused due to Lyssa virus type-I, that is transmitted through saliva after dog bite. About 3-6 days goes unnoticed after dog bite. Virus multiplies in the muscles near bite site. After that it enters in nervous system and reach to vertebral column. Now it starts destroying central nervous system 
Symptoms:-
(i) Headache, pain in throat, mild fever (2-10 days) are early symptoms of Rabies.   (ii) At the site of injury, there is sensational pain experienced by patient. Gradually noise, highlight intensity and cool wind become unbearable for patient. Afterwards, problem in swallowing any liquid food.  (iii) At the last stage of disease, patient develop hydrophobia, and finally patient leads to death.
Control Measures : 
(i) Wound is washed by soap, water and 1% benzalconium chloride paste is used. If bite is on head, neck, palm or finger, then antirabies syrup is given.   (ii) We should keep eye on animal, who has injured the patient at least for 10 days. If test reveals positive case, then rabies vaccine should be given.  (iii) Antirabies vaccine can be used for prevention of rabies Rabipen and HDCV are new vaccine for rabies disease.  (iv) Street dogs must be properly accomodated.   (v) Pet dogs must be vaccinated. 
---
7. Write about the names and five classes of antibody. 
Ans. five classes of antibody-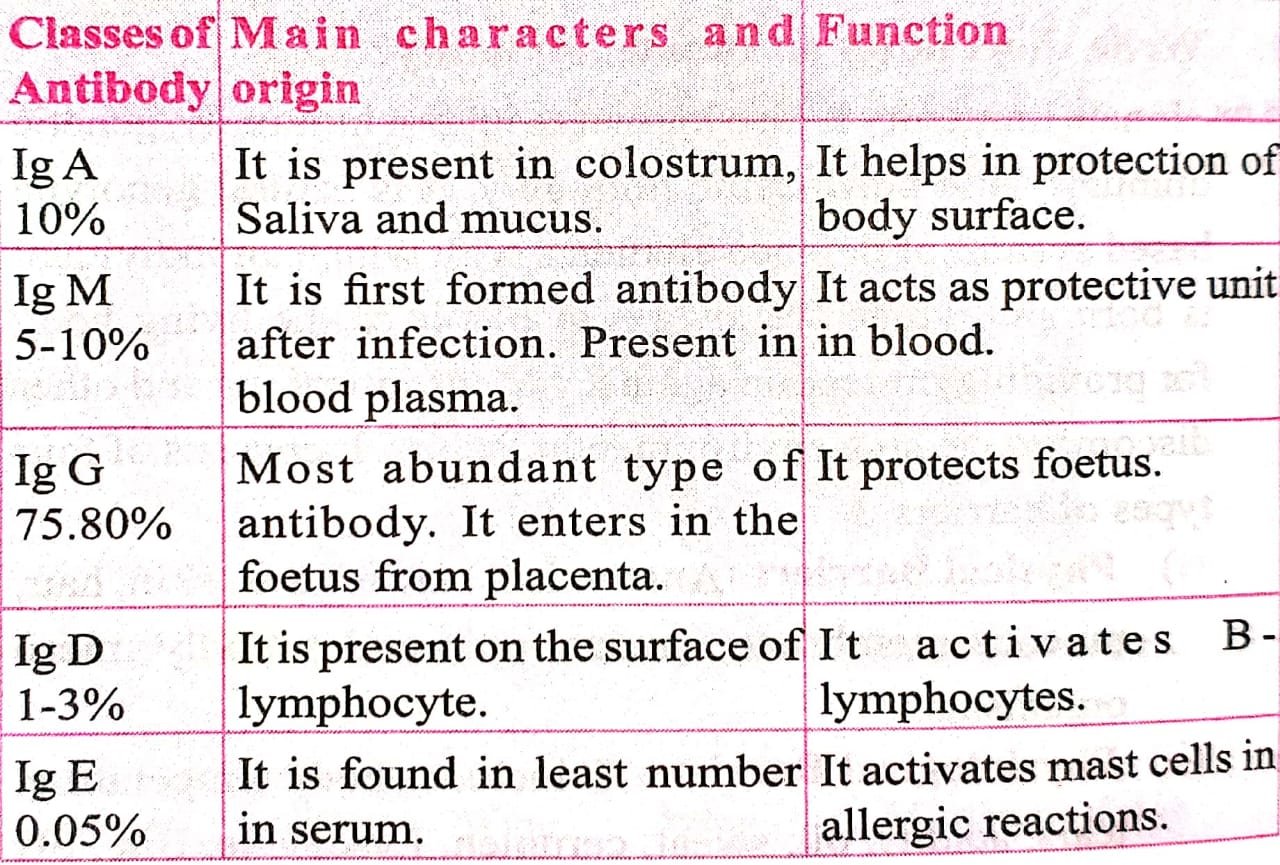 ---
8. What are the functions of blood? 
Ans.- Blood has following functions in the body :
(i) Main function of blood is to transport nutrients in each and every cell.
(ii) They transport oxygen in the form of oxyhaemoglobin in the cells, and collect waste material out of the cells. eg.- transport CO2 to lungs.
(iii) Blood help in clotting at the side of injury.
(iv) Blood help in removal of wastes from kidney.
(v) Antibodies needed to fight with diseases, are formed in the blood.
(vi) Blood help in forming various type of regulating and defence cells in it. 
---
9. What is immunity? Draw the diagram of structure of antibody molecule.
Ans.–Special type of capacity in body which make dead to germs ( and make immune body that is called Immunity.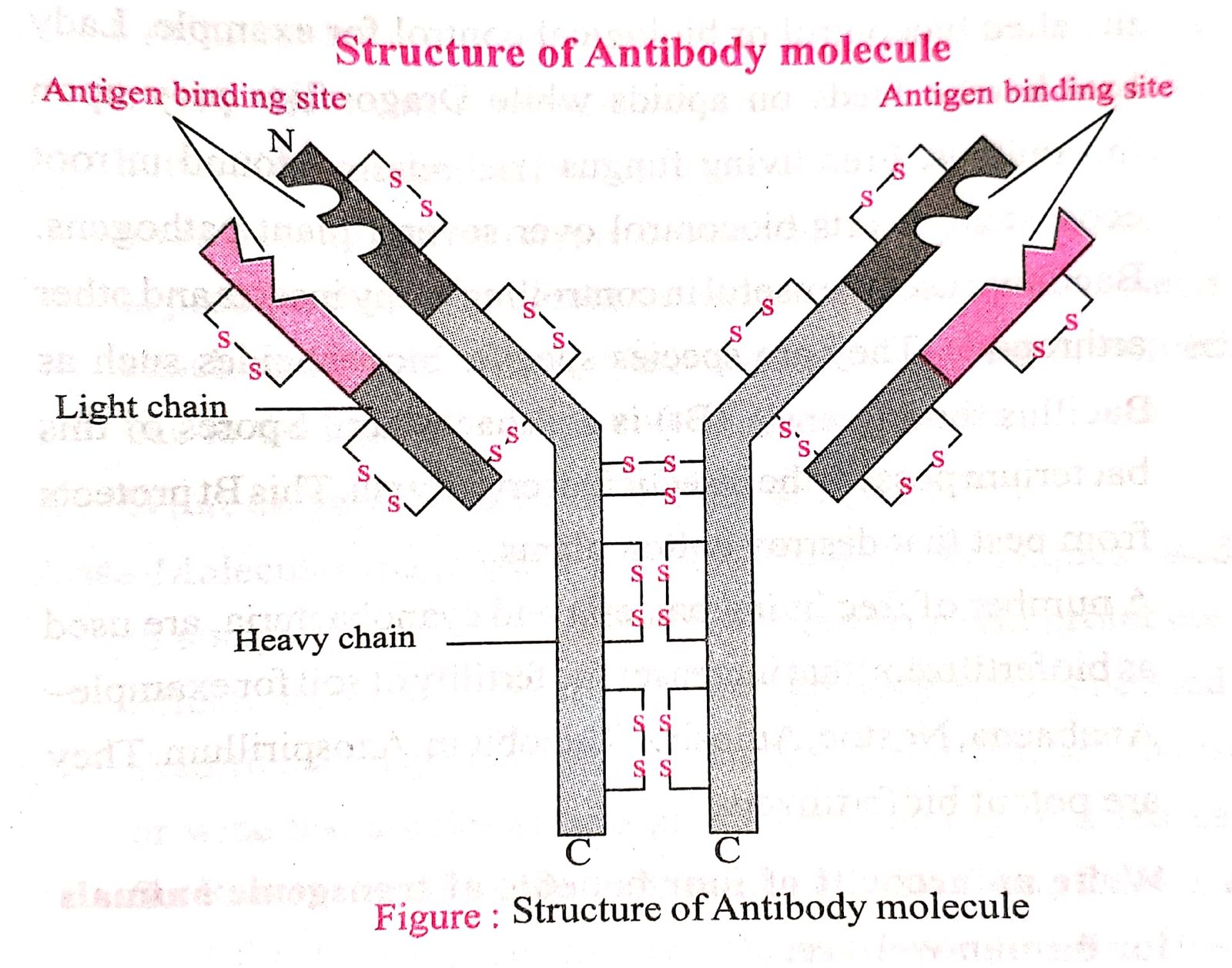 ---
10. What are communicable diseases in human beings ? Describe with suitable examples.
Ans. : A communicable disease is one in which the causative organism is carried from one person to another either directly or indirectly. Types of communicable diseases :
(i) Viral diseases- e.g., Influenza, small pox, chicken pox etc.
(ii) Bacterial diseases- e.g. Cholera, typhoid, syphilis etc.
(iii) Protozoan diseases- e.g., Amoebiasis, Malaria, Kala a-zar, sleeping-sickness etc.
(iv) Fungal diseases— e.g., Ringworm, Athelete's foot etc.
(v) Rickettsial diseases— Caused by rickettsians (the obligate intracellular parasites): e.g., Trench fever, typhus fever, Q. fever, etc.
---
11. Write the scientific name of causal organism of Malaria and Elephantiasis disease of human beings.
Ans. : Malarial fever is being from Malaria parasite plasmodium. Elephantiasis disease of human beings from adult wuchereria bankroptai.
---
Biology ka Objective Question 12th, 12th Biology Objective Questions and Answers in English 2020, 12th Biology Objective, Class 12th Biology Most VVI MCQ Objective Chapter Wise Question in English on New Pattern, BSEB Inter Exam 2021 Biology Objective Question Set10th board, Class 12th Exam Science Stream Biology VVI Objective Type Question Ecosystem Chapter, Class 12th Exam Biology Objective MCQ Question Chapter Wise in English, 12th Biology Short Long Type Question Reproduction In Organisms Chapter in English
---
12th Biology Objective Subjective Questions and Answers in English, 12th Biology Objective Questions and Answers in English 2021, 12th Biology Objective Questions and Answers pdf in English, Chemistry Objective question 12th 2021, Bihar Board 12th Biology Objective Question Sexual Reproduction in Flowering Plants Chapter, 12th Biology ka objective question 2021, 
---
IMPORTANT LINKS –
Class 12th Biology VVI Objective Subjective Question in English Sexual Reproduction in Flowering Plants Chapter, BSEB Inter Exam Biology Chapter wise Objective Subjective Question New Pattern, Bihar Board 12th Biology Objective Subjective  Question Sexual Reproduction in Flowering Plants Chapter,
Class 12th Exam Biology VVI Objective Subjective Question Human Reproduction Chapter, 12th Board Exam Biology Most VVI MCQ Question Reproductive Health Chapter, Class 12th Board Exam Biology Important Chapter Wise MCQ Subjective Question in English, BSEB Inter Exam Biology Important MCQ Question Evolution Chapter in English,
Class 12th Biology VVI Objective MCQ Human Health and Diseases Chapter in English, Class 12th Exam Biology Chapter Wise Objective MCQ Question in English, Class 12th Biology Most VVI MCQ Objective Chapter Wise Question in English on New Pattern, BSEB Inter Exam Biology Chapter Wise Objective Subjective MCQ Question in English, Human Reproduction Chapter 12th Biology Short Long Type Important Question, BSEB 12th Exam Biology Most VVI Short Long Question Reproductive Health Chapter on New Pattern, Class 12th Biology VVI Objective Subjective Question in English Human Health And Diseases Chapter