Class 12th Biology Reproduction In Flowering Plants Chapter Wise Short Long Type Question
---
Reproduction In Flowering Plants
---
1. What do you mean by protandry? Give its advantages?
Ans.- Maturation of androecium (male part of flower) before maturation of Gynoecium (female part of flower) is known as protandry.
Ex.: Salvia. This condition prevents self pollination.
---
2. With a heat labelled diagram, describe the part of a typical angiospermic ovule.
Ans.-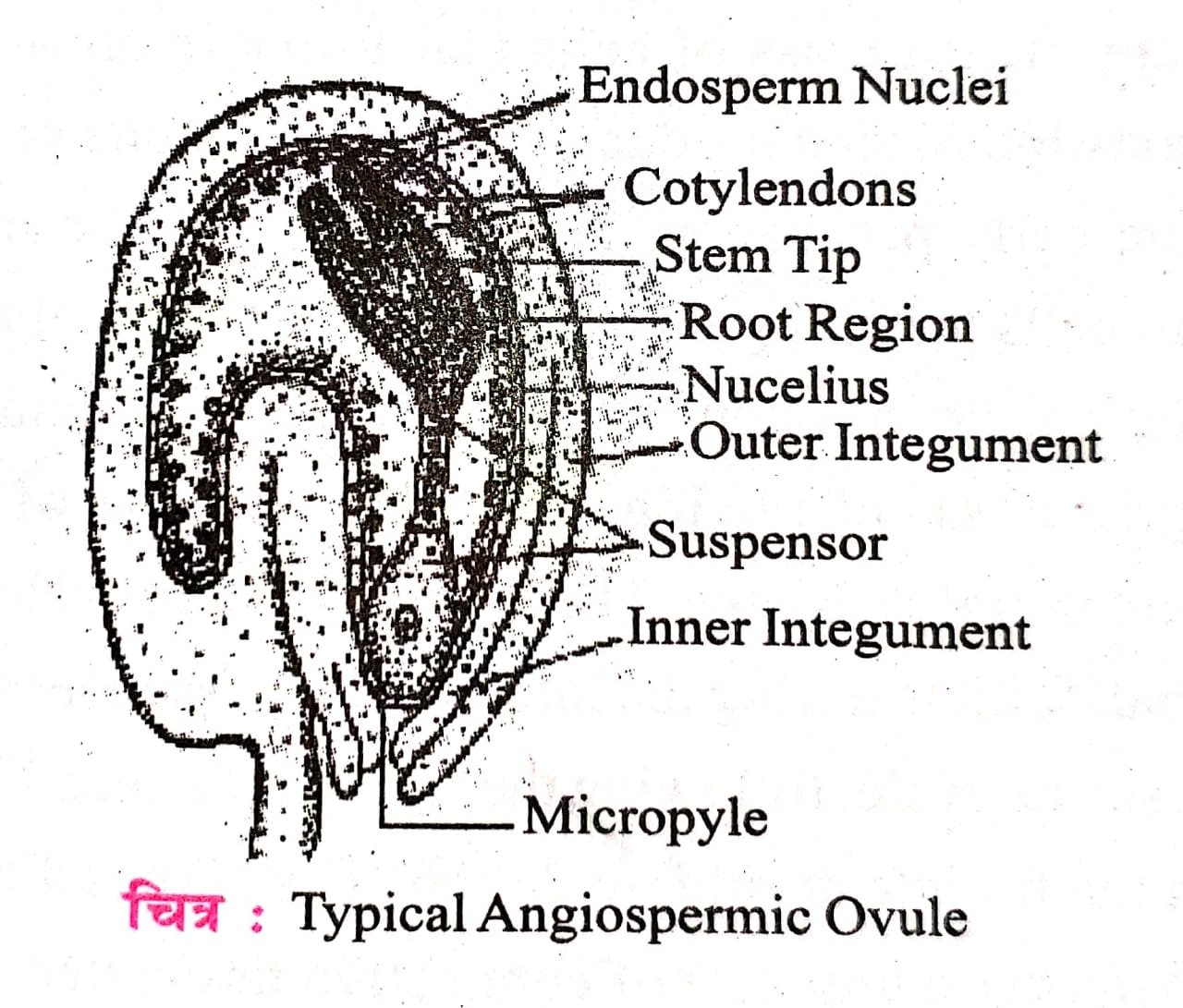 ---
3. Draw the sketches of a zoospore and a conidium. 
Ans. :-
---
4. Mention the advantages of self-pollination.
Ans. :- Advantages of self pollination : 
(i) Self – pollination maintains purity of the race and avoids mixing 
(ii) Chances of pollination are more.
---
---
12th Biology Objective Subjective Questions and Answers in English, 12th Biology Objective Questions and Answers in English 2021, 12th Biology Objective Questions and Answers pdf in English, Chemistry Objective question 12th 2021, Bihar Board 12th Biology Objective Question Sexual Reproduction in Flowering Plants Chapter, 12th Biology ka objective question 2021, Biology ka objective question 12th, 12th biology objective questions and answers in English 2020, 12th biology objective, Class 12th Biology Most VVI MCQ Objective Chapter Wise Question in English on New Pattern, BSEB Inter Exam 2021 Biology Objective Question Set10th board, Class 12th Exam Science Stream Biology VVI Objective Type Question Ecosystem Chapter, Class 12th Exam Biology Objective MCQ Question Chapter Wise in English, 12th Biology Short Long Type Question Reproduction In Organisms Chapter in English
---
IMPORTANT LINKS –
Class 12th Biology VVI Objective Subjective Question in English Sexual Reproduction in Flowering Plants Chapter, BSEB Inter Exam Biology Chapter wise Objective Subjective Question New Pattern, Bihar Board 12th Biology Objective Subjective  Question Sexual Reproduction in Flowering Plants Chapter, Class 12th Exam Biology VVI Objective Subjective Question Human Reproduction Chapter, 12th Board Exam Biology Most VVI MCQ Question Reproductive Health Chapter, Class 12th Board Exam Biology Important Chapter Wise MCQ Subjective Question in English, BSEB Inter Exam Biology Important MCQ Question Evolution Chapter in English, Class 12th Biology VVI Objective MCQ Human Health and Diseases Chapter in English, Class 12th Exam Biology Chapter Wise Objective MCQ Question in English, Class 12th Biology Most VVI MCQ Objective Chapter Wise Question in English on New Pattern, BSEB Inter Exam Biology Chapter Wise Objective Subjective MCQ Question in English